Spotlight on John Schnautz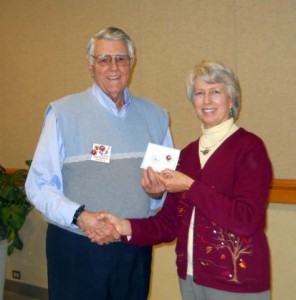 Volunteerism and support of Land Grant Universities
John Schnautz
 Volunteerism and support of Land Grant Universities has been the passion of John Schnautz, especially since John and his wife Barbara moved to Asheville in 1990. John grew up near Hamburg, NY during the great depression. His family had a garden and sold surplus produce at their road side stand. Profits augmented family vacations. During WWII the garden was called a Victory Garden. At that time meat was rationed so John, as a high school sophomore in 1942, began raising chickens, rabbits, ducks and turkeys. These were marketed to the local community. John was interested in agriculture but did not have the resources to finance an agricultural business and he was not interested in becoming a farm manager.
During John's early university days he did not have a career goal in mind but studied the hard sciences. In June, 1951, he earned a BS degree from Iowa State University with chemistry as a major and microbiology and mathematics as minors. During summers he worked as a quality control supervisor at a number of food processing plants in Minnesota. In September, 1951, he was drafted into the army and served in the Veterinary service. He served first as a meat inspector and then as a food chemist testing foods purchased by the military to assure that specification requirements were met. After discharge, John entered Oregon State University as a graduate student, earned a MS Degree in Food Science and a Ph.D. Degree in Chemical Engineering. John was awarded a post doctoral Fulbright Scholarship to study chemical synthesis from gaseous feed stocks at the Technische Hochschule, Darmstadt Germany.
In 1958 John joined an international oil company which consumed most of his time for the next 30 years. His assignments included The Hague, Netherlands, Saudi Arabia, New York City, Cairo, Egypt and finally Doha Qatar. In 1969 John was sponsored by his company to attend MIT's Center for Advanced Engineering. Thereafter he had repeat assignments in New York and The Hague. In 1985 John was placed on a three year loan to the Qatar Petroleum Corp. His mission was to establish vocational and professional training facilities for National employees working for government owned oil, gas, fertilizer & steel companies. In 1988 John retired from ExxonMobil to Pennsylvania where he enjoyed hunting and fishing for two years before deciding retirement should include "give back time" and moved to Asheville.
In Asheville John found a secluded 3 ½ acre parcel with agricultural opportunities and large enough to justify a John Deere. He was finding his way back to agriculture. North Carolina soil and climate proved challenging and led him to seek advice from Cooperative Extension. Thus began a 20 year association. On November 10, John received his 20-year pin from Buncombe County Urban Horticulture Agent Linda Blue for his service in the Extension Master Gardener Program. John has also participated in the Master Food Preserver Program beginning in 1993 and has assisted in teaching workshops. John became a certified bee keeper in 1999. Recently John was instrumental in forming the Buncombe County 4-H Enhancement Program Fund, whose mission is to enhance opportunities for 4-H and Buncombe County youth participation in STEM learning activities. The Fund has sponsored "Robotics for Beginners" workshops. John has served on the Buncombe County Advisory Council since 1995 and on the State Advisory Council since 2006. John has been a member of Asheville SCORE for 22 years and provides business counseling to a variety of businesses, including agricultural businesses. In his spare time John, with help from Barbara, tends his 3 ½ acre property in North West Asheville where he raises fruits, vegetables and flowers.