State Advisory Council Meets in Wilmington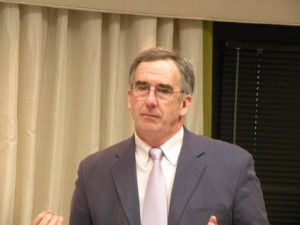 The meeting was hosted by New Hanover County and County Extension Director, Al Hight. New Advisory Leadership Chair, Lynn Yokley, opened the meeting at 2:00 p.m. on Tuesday, October 13th at the Hampton Inn in Wilmington. After introductions and updates, Dr. Zublena gave the Council the County Operations update and a budget perspective. Lynn introduced the new North Central District Director, Mr. Jim Cowden who was at the meeting. The Council heard presentations from Dr. Lanny Hass and Ms. Peggie Garner that afternoon.
On Wednesday, October 14th, the Council got to hear from New Hanover County Manager, Mr. Bruce Shell, (pictured above) who told the Council how his county was dealing with budget cutbacks and remaining an organization based on service with the belief that if they do that they will come out better every time.
The Council also heard administrative updates from Dr. Ort, Associate Dean and Director of Cooperative Extension and Dr. M. Ray McKinnie, Associate Dean, Administrator – Cooperative Extension at NC A&T University. They also heard programs on Stormwater from Mrs. Charlotte Glen; Farmers Markets, Mr. Mark Seitz; Local Foods, Dr. Nancy Creamer; and were treated to a lunch from Tidal Creek in Wilmington that focuses on using local foods. Mr. Al Hight, CED, took the group on an abbreviated tour of New Hanover due to poor weather conditions (lots of rain!).
On Thursday, SAC conducted their business session, gave district and committee reports and had time for discussion of future plans and events. The meeting adjourned after lunch and the next SAC meeting is scheduled for February 1st – 3rd, the place TBA.