Advisory Council Meeting February 10-12th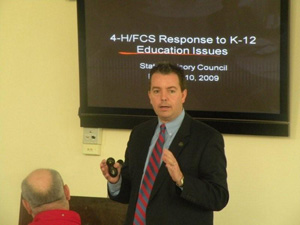 The NCCE State Advisory Council met on the beautiful Kannapolis Research Campus February 10th -12th.
The group met in the Bank Building where they were welcomed to Cabarrus County on February 10th by Dr. Donald Cobb, NCCE South Central District Director and Mr. Carl D. Pless, Jr., NCCE Cabarrus County Extension Agent, Agriculture.
On Tuesday afternoon the Council heard presentations from Dr. Donald Cobb who gave the South Central District update. Dr. Marshall Stewart, 4-H Youth Development & Family & Consumer Sciences Department Head, gave the 4-H/FCS response to K-12 education issues. (Dr. Stewart's Powerpoint Presentation).
Mr. Noland Ramsey, former State Advisory Council Chair, gave the group a report on being named the CARET representative. Presentations and powerpoints were given by Mr. Shannon Braswell, NCCE Agricultural Extension Agent, Stanley County and Ms. Lori Ivey, NCCE County Extension Director, Stanly County.
Lori Ivey's powerpoint was on Senior Health Insurance Information Programming that they are doing in their county:  https://als.ces.ncsu.edu/files/library/2001/Get%20SHIIP%20Shape%202.ppt
Shannon Braswell's powerpoint was on Multi-County Agricultural programming: https://als.ces.ncsu.edu/files/library/2001/Tri-County%20Events.ppt
The Council reconvened on Wednesday in the Bank Building where they heard a brief presentation from SAC member Sam Brake on the Biofuel Center of North Carolina of which he has recently been named the director.
A business session followed chaired by B.A. Smith, the Council heard a presentation from Cabarrus County Manager, Mr. John Day, Administrative Updates from Dr. Jon Ort, NCSU and Dr. Celvia Stovall, NC A&T Universities.
After a break, Mr. Brad Dixon gave a powerpoint presentation on "The North Carolina 4-H Museum: Take Your Place in 4-H History" followed by Mrs. Sharon Rowland, Executive Director of Constituency Development Programs on the Foundation.
SAC members then rotated to 3 Extension spotlights: "Families Eating Smart Moving More" by Ms. Pam Outen, NCCE Extension Agent, FCE, Cabarrus County; "Sustainable Communities", Mr. Carl D. Pless, Jr., NCCE Agriculture Extension Agent, Cabarrus County and Mr. David Goforth, NCCE Agriculture Extension Agent, Cabarrus County and "4-H School Enrichment Programs" by Dr. Laura Byrd, NCCE Extension Agent, 4-H, Union County.
After lunch Mr. Gary Bullen, NCCE Extension Associate, Farm Management and Dr. Mike Siebert, Assistant State Director, SBTDC gave a powerpoint presentation on "Collaborative efforts in Entrepreneurship in NC".
After a break we were treated to a tour of the Kannapolis Research Campus by Tara Vogelien, NCSU Plants for Human Health Institute, Director for Business and Research Administration.
Our last day in Kannapolis was spent on Strategic Planning, Committee Meetings and District Reports.
Committee Reports:
Marketing
Advocacy
Communications
District Reports:
West
West Central
North Central
South Central
Northeast
Southeast
Was the information on this page helpful?
This page can also be accessed from:
go.ncsu.edu/readext?161184