State Advisory Council Meets in Watauga County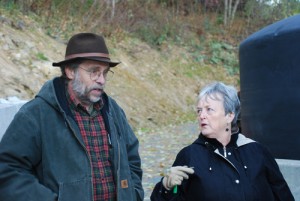 The North Carolina Cooperative Extension Service State Advisory Council met in Boone, N.C. October 28th – 30th. The Council was hosted by the Watauga County Extension Staff.
While in Boone the Council members heard updates from Dr. Jon Ort, N.C. Cooperative Extension, Assistant Vice Chancellor and Associate Dean and Director and from Dr. M. Ray McKinnie, NC A&T State University, Adminstrator and Associate Dean for Cooperative Extension. The updates from each university were given in the form of a question and answer session from the SAC members which proved to be very beneficial for receiving the information needed. Questions were asked and answered about the STEM program, the current economic condition and it's effects, the 4-H program, etc.
The SAC members were given reports from the members that attended the 4-H Citizenship Focus event held in Raleigh in June 2008. The members that attended included; Jackie Lewis, Pete Miller, Charles Boyd, Ralph Warren, Jo Ann Stroud, George Quigley and Jack Parker. Everyone agreed that this was a very beneficial meeting and they enjoyed the time with the 4-H'ers and their visits on Capitol Hill.
SAC Student Representative, Rebecca Jones, gave a powerpoint she had developed on the history of 4-H. We will post this powerpoint on the web for all to enjoy.
Mr. Jesse Eargle, Special Asst. to the Vice-President, Clemson University, came to talk to us about Clemson Extension. We were given a West District update and powerpoint by Dr. Harvey Fouts, West District Extension Director. Click here to see the powerpoint presentation given by Dr. Fouts:  https://als.ces.ncsu.edu/files/library/2001/west%20district%20overview%202008.ppt
The Council received an update from Dr. Edwin Jones regarding RREA and Rural Development Program.
SAC members; Mr. Chuck Moseley, Mr. George Quigley, Mrs. Jo Ann Stroud, Mr. B.A. Smith and Mr. Ralph Warren all reported on recent Back Home visits held in their districts. Mr. Kevin Howell, Asst. to the Chancellor, External Affairs, gave everyone an update on what is going on in the Legislature right now. As Kevin remarked and we all knew – we are going into tough times.
Dr. Jeanine Davis, Associate Professor and Extension Specialist, gave a powerpoint on "Opportunities with Natural Products".
Mr. Jerry Moody, Avery County Extension Director, gave the Council an update on the WNC Christmas Tree Industry. Mr. Ross Young, Madison County Extension Director gave an update and powerpoint presentation on "Madison Farms: A Value Added Approach" and also "WNC Ag Options". Click here for the powerpoint presentation on "WNC Ag Options".
Mrs. Wendy Patoprsty, Associate County Extension Agent – Environmental Education in Watauga County, gave a talk and powerpoint presentation on "Integrated Programming in Watauga County".
We were treated to a tour by the agents and Mrs. Sue Counts, Watauga County Extension Director, to "The Farm at Mollie's Branch", Moretz's Mountain Orchard and the Town of Boone Cistern.
The meeting wrapped up on Thursday, October 30th with a SAC Business Session, Committee Meetings, District Meetings and a sharing session.